Kenilworth's Selected Awards
2014 grand award winner of Golden Climate international science fair
2014 DEQ Environmental Leadership Program School Achievement Award
GBRIA Craft Education Development Champion Award
Founder and host school, Louisiana Elementary Math Olympiad
Founder and host school, Louisiana STEM Expo
Founding partner of Louisiana STEM Initiative
Students published in the national scientific journal
Four consecutive years of school performance score growth
Four consecutive years of enrollment growth
Partnerships with businesses, U.S. Navy, industry groups and state agencies
Success in regional and state science fairs
First place, statewide robotics competition
---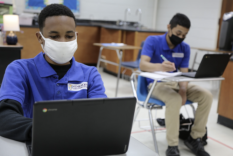 Kenilworth ranks third in this year's regional science fair
Kenilworth Science and Technology School ranked third in the 2021 Louisiana Region VII Science and Engineering Fair Junior Division. KST students received nine awards, making them the highest ranked open enrollment school of the competition. "This pandemic presents its own set of unique challenges," says Hazel Regis, Principal of Kenilworth Science and Technology School. "Despite the struggles of COVID-19, the regi...
---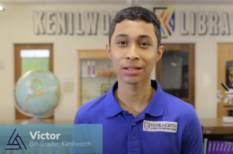 Kenilworth recognized as a state leader for innovation in education
The Louisiana Association of Public Charter Schools has honored Kenilworth Science and Technology School in Baton Rouge as the 2020 Innovative Education Award recipient. The award was given for their in-house programming of the 'KST Success Portal' that improves student and parent online-access to school curriculum, testing and grades. The platform is an all-in-one stop for students and parents to track academic progress of students...
---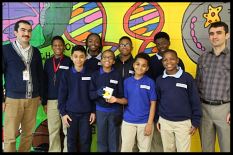 2018 Kenilworth robotics team takes 2nd place in regionals
A team of students from Kenilworth Science and Technology Schoolgrabbed second place in a regional robotics competition on Saturday in Lafayette and will head to the state finals in New Orleans next month. The First LEGO League offers opportunities for middle school students to design, build andcompete with a robot constructed of LEGOs. The eight-student team came in second, overall. The&...
---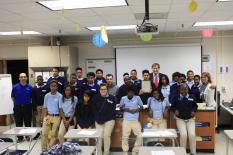 2016 DES- Recycling Contest Winner
Kenilworth won The Department of Environmental Services' Recycling Competition by collecting 3,291 pounds of recyclable material during October! In honor of these students' efforts, they were presented with a proclamation from Mayor-President Melvin L. "Kip" Holden recognizing today as "Kenilworth Science and Technology School Day." We're proud of these students for their recycling efforts ...
---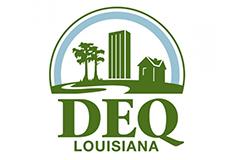 2014 DEQ School Achievement Award for Community Environmental Outreach
The Louisiana Department of Environmental Quality has honored Kenilworth Science and Technology Charter School with an Environmental Leadership Program award for the school's role in organizing and hosting the first-ever Louisiana STEM Expo. Since 1995, DEQ has presented its Environmental Leadership Program awards to businesses, municipalities, non-government organizations, and schools. Kenilworth, which was the only Baton Rouge-area s...
---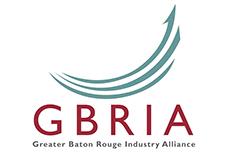 GBRIA Craft Education Development Champion Award
An industry group recently honored two Kenilworth Science and Technology Charter School leaders for their ongoing work to prepare students for tomorrow's high-tech workplace. Dr. Eugene Kennedy Dr. Tevfik Eski, the superintendent of Kenilworth, and Dr. Eugene Kennedy, a board member for the school, received the Greater Baton Rouge Industry Alliance's (GBRIA) Craft Education Development Champio...
---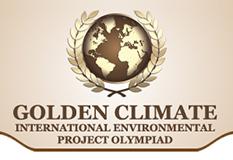 Golden Climate International Science Fair Grand Award
2014 Grand Award Winner
Last week, Kenilworth Science and Technology Charter School student Jalen Scott flew to Africa as the only student in the United States invited to an international science competition. The eighth-grader returned home Sunday to Baton Rouge with the grand prize for the best project. Jalen captured the top award for having the best overall project in last week's Golden Climate International Environmental Project Olympiad in Nairobi, Kenya....