Students to compete in state science fair
Apr 1, 2015
by Advocate Staff Report @ The Advocate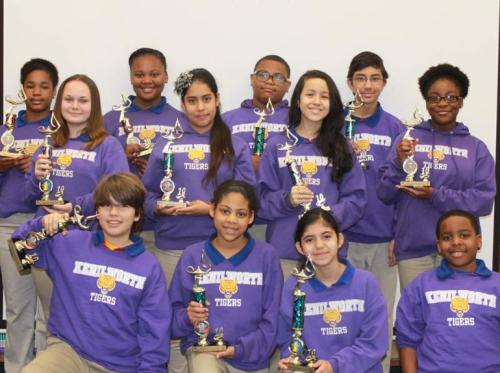 Twelve Kenilworth Science and Technology Charter School students placed in the recent Region VII Science and Engineer Fair, and four of the students will get the chance to compete at the state fair on March 23-25 at the LSU Student Union.

The Kenilworth students who are going to the state fair include Monica Deras, first place; Ashton Fox, first; Julia Rodriguez, second; and Andrew Knott, second.

Other Kenilworth students who placed include Justin Starks, fourth; Adrian Crandal, fourth; Que' Asia Stafford, third; Kolby Trosclair, fourth; Alexzandria Ursin, fourth; Kaitlyn Johnson, fourth; Angelina Patton, fourth; and Carley Whitty, fourth.

Photo provided by Mark Lambert -- Winning awards at the recent Region VII Science and Engineer Fair are Kenilworth Science and Technology School students, first row from left, Andrew Knott, Justice Starks, Monica Deras and Adrian Crandal; second row, Carley Whitty, Julia Rodriguez, Angelina Patton and Katlyn Johnson; and third row, Que' Asia Stafford, Alexzandria Ursin, Kolby Trosclair, and Ashton Fox.