Nearly 300 5th graders compete at LA Elementary Math Olympiad
Nov 13, 2018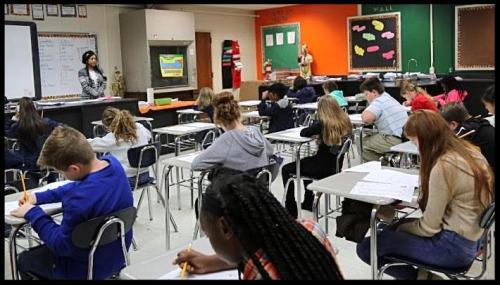 No v. 13, 2018 - Hundreds of public, private, parochial and charter school fifth-grade students across south Louisiana competed for prizes on Saturday at the Louisiana Elementary Math Olympiad, held at Kenilworth Science and Technology School in Baton Rouge.


The Olympiad is a paper-and-pencil math exam that tests the students' basic skills in adding, subtracting, multiplying and dividing. Kenilworth, a public charter middle school, is the founder and sponsor of the annual event. Hundreds of parents, students and others attended the event on Saturday.

EBR Mayor-President Sharon Weston Broome checks out a turtle withKenilworth teacher Fahri Arik at Saturday's Louisiana Elementary Math Olympiad
Several public officials also were on hand to lend their support to the students. Keynote speaker State Representative Patricia Haynes Smith was joined by East Baton Rouge Parish Mayor-President Sharon Weston Broome and Donald Songy, former superintendent of Ascension Parish schools and current education policy adviser for Gov. John Bel Edwards.


First place in the contest was awarded to Ray Tan of Shenandoah Elementary School. Anna Wang of Wildwood Elementary came in second, Mason Liner of Parkview Baptist School finished third, and Bobby Chen of Wildwood ElementarySchool came in fourth.


The contest drew 294 registered students from public schools in East Baton Rouge andAscension parishes; Baton Rouge International School; John Curtis Christian School in River Ridge; Episcopal School of Baton Rouge; Isidore Newman School in New Orleans; Parkview Baptist School; Runnells School in Baton Rouge; St. Alphonsus Catholic School; St. Jude the Apostle School; St. Martin Episcopal School in Metairie, and Tangi Academy in Hammond.


Kenilworth started the Math Olympiad in 2010, and it has grown each year to include more students from more schools. The Olympiad now is attended by more than 200 students from about 50 schools in Louisiana.

Kenilworth sponsors the Louisiana Elementary Math Olympiad every year as part of its commitment to promoting STEM education in its school and throughout the community.