Kenilworth's state report card shows impressive improvement
Nov 15, 2018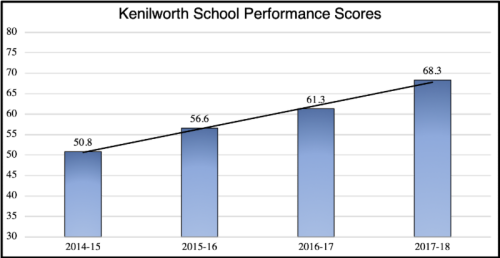 Nov. 15, 2018 - Kenilworth Science and Technology School posted an impressive 12 percent improvement in its School Performance Score in 2018, bringing its letter grade to a "C" under the scoring formula the Louisiana Department of Education has used for the last several years.


Kenilworth, a state-sanctioned charter school, was one of only eight public and public charter middle schools in East Baton Rouge Parish to show a School Performance Score (SPS) improvement from the 2017 scores and one of only three to show at least a 10 percent improvement. Last year, Kenilworth had a 61.3 SPS, which was a "D." The 2018 score is now a 68.7, which is a C.

This was the third consecutive year that Kenilworth has demonstrated academic improvement since Math and English Language Arts standards changed in 2014

"This was the result of everyone in the Kenilworth family recognizing that we had to show more academic progress," Principal Hasan Suzuk said. "Our students, parents, teachers andstaff worked hard to produce better results, and I am proud of them."

The Department of Education also published a 2018 "new formula" SPS that reflects tougher standards the state is implementing, but the 2017 equivalent scores under the new formula were not released. A new state law directed the Department of Education to publish the 2018 scores under both formulas this year.

Even under the new, higher standards, Kenilworth's "new formula" score was published as a 59, which is one point below a "C." Kenilworth also earned a "progress letter grade equivalent" of a "B" in recognition of academic performance improvement under the new formula.

"The Department of Education has raised the bar, and we are pleased that Kenilworth is moving toward a higher standard," Principal Hasan Suzuk said. "We support the Department of Education's expectations that schools show improvement, just as our faculty and staff set higher standards for our students to encourage them to succeed."

SPS scores are based on several pieces of data that measure academic achievement andprogress, including scores from the Spring 2018 LEAP tests.

Kenilworth was a failing middle school in 2009 when the state took it over and converted it to a charter school, and it has shown consistent improvement since then. According to DOE data, more students from Kenilworth achieved basic or higher scores on the Spring 2018 LEAP tests than any other open-enrollment, non-magnet school in East Baton Rouge Parish.