Kenilworth student's project wins pollution prevention award
Apr 29, 2015
by By Advocate Staff Report @ The Advocate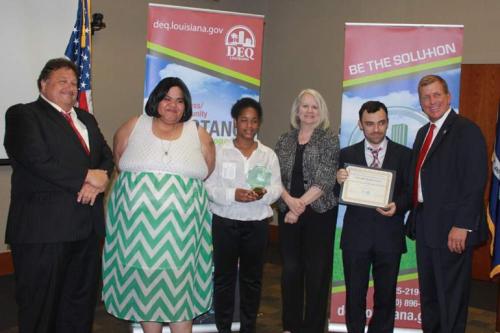 A Kenilworth Science and Technology School student's science fair project on coastal protection alternatives has earned the school a pollution prevention award from the Louisiana Department of Environmental Quality.
Que'asia Stafford's "Smart Coastal Protection" project suggested that fluorogypsum, a byproduct of hydrofluoric acid production, may be a superior material to limestone, which is now being used to build coastal protection structures, a news release said.

Stafford and Kenilworth received the School Honorable Mention Award in Pollution Prevention through DEQ's Environmental Leadership Program in April at DEQ headquarters in Baton Rouge. It was the second consecutive year Kenilworth has won an award through DEQ's Environmental Leadership Program.

Stafford's mother, Kimiko Jones, credited her daughter's science teacher, Elkhan Akhundov, with "pushing her to learn. He pushes these kids to their full potential, and that's all we ask of him. I know how much work he does for our kids, and I really appreciate it."

The project, which also placed in the Louisiana Region VII Science and Engineering Fair, was part of Kenilworth's mentoring program in which the school matches students with university professors.

Stafford worked with LSU professor M. Teresa Gutierrez-Wing, of the LSU Department of Civil and Environmental Engineering, for the project, which was funded by the Louisiana Department of Wildlife and Fisheries.

"I know that this type of collaboration — a collaboration between the Department of Wildlife and Fisheries, Kenilworth, the student, the students' family, and the university — will truly benefit current and future engineers and scientists in our community," Gutierrez-Wing said.

Stafford said receiving the DEQ award was "shocking. I haven't told any of my friends yet because I want it to be a surprise when I get to school with an award."

Kenilworth student Que'asia Stafford, third from left, received an environmental award from the Louisiana Department of Environmental Quality. Gathering for the April ceremony, from left, are State Rep. Gordon Dove, chairman of the House Natural Resources and Environment Committee; Kimiko Jones, Que'asia's mother; Que'asia; DEQ Secretary Peggy Hatch; Kenilworth science teacher Elkhan Akhundov; and State Sen. Michael Walsworth, chairman of the Senate Environmental Quality Committee.