Kenilworth students and LSU professors make a winning team
Oct 22, 2018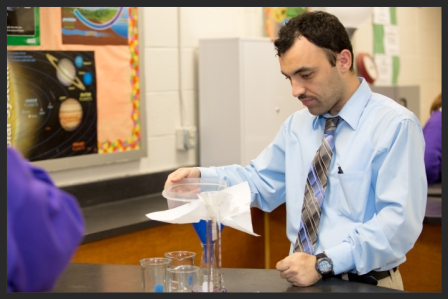 Elkhan Akhundov of Kenilworth Science and Technology School is an academic match-maker.


Elkhan Akhundov works with Kenilworthstudents in a chemistry lab
At the beginning of each school year, Akhundov asks hundreds of LSU professors, assistant professors andgraduate assistants to participate in the Student Research Mentorship program, a project that matches university researchers with Kenilworthstudents on science fair projects. The idea behind the SRM program is to get students excited about STEM studies through exposure to university-level labs, personnel and equipment.


"The professors who agree to work with us come to the school and say, 'You're not a high school? How are we going to do this with a middle school?'" said Akhundov, a science teacher and Assistant Principal at Kenilworth. "But once the students see how cool it is to work on a high-level science project, they really get into it. Then, you see the professors get excited. I've really been surprised at how involved the professors get."

The students often get to visit science labs at LSU and work with sophisticated equipment, but they have to do the work on the projects, and they have to understand every detail of the science behind it. This "project-based learning" model aims to get students interested in science by having them learn everything about a narrow subject, rather than having them learn broad scientific principles before drilling down to specific applications.
Akhundov had success with the SRM program at a previous school, and he started using it when he arrived at Kenilworth. Since then, Akhundov has been honored by the Baton Rouge Area Chamber of Commerce as one of the top STEM teachers in the region. Last year, the Society for Science & the Public named him as one of 45 advocates across the country who are working to expand opportunities for underserved students to compete and succeed inscience research competition.

It is working at Kenilworth, an open-enrollment public charter school that has shown consistent academic improvement and routinely competes with private schools and selective-enrollment schools in science fairs on regional, state andeven international levels. Since 2013, Kenilworth students in the SRM program have placed 49 times in regional and state science fairs, and four students have participated in international competitions in Kenya, The Netherlands andBrazil. In the regional science fair at LSU, at least one Kenilworth student has taken first place in a category in four of the past six years.

As an open-enrollment school, Kenilworth has no academic admissions standards, unlike magnet schools or gifted-and-talent schools that have minimum entrance requirements. More than 90 percent of Kenilworth students are considered economically at-risk, which often equates with being academically at-risk.

"We have some sharp kids, but they don't always get the same opportunities as other kids," Akhundov said. "But when they are given the opportunities, they can compete at a high level. The SRM program gives them that opportunity."