BR girls sweep STEM Expo grand awards
Apr 1, 2015
by Advocate Staff Report @ The Advocate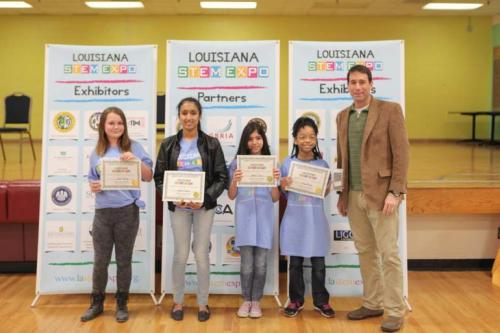 Twelve Kenilworth Science and Technology Charter School students placed in the recent Region VII Science and Engineer Fair, and four of the students will get the chance to compete at the state fair on March 23-25 at the LSU Student Union.

Four girls from Baton Rouge middle schools swept the grand awards Feb. 28 at the 2015 Louisiana STEM Expo at Kenilworth Science and Technology Charter School.

Jasmine Gray, a sixth-grade student from McKinley Middle Magnet School, was the first grand award winner with her demonstration, "Cornstarch Experiment."

Monica Deras, a sixth-grader at Kenilworth, took the second award with her "Tornado Tube and Fountain Connection" project.

Anusha Zaman, an eighth-grade student from Glasgow Middle School, was the third grand award winner with "Hookah vs. Cigarette Smoke," and Carley Whitty, a sixth-grade Kenilworth student, took the fourth grand award with "Wimhurst Machine."

Dozens of students participated in the expo, which was open to all middle school students in Louisiana.

A spokeswoman for one of the expo's partners, the U.S. Navy Recruiting District in New Orleans, said the STEM Expo is an important event to encourage students to get involved in science, technology, engineering and math activities.

"The Department of the Navy is committed to identifying, attracting and preparing our nation's students in the STEM fields with a the goal of meeting the global workforce challenges of tomorrow," said Dr. Yvonne Simmons, education program manager for the recruiting district. "We salute Kenilworth for being a leader in this field, and the Navy Recruiting District-New Orleans looks forward to supporting Kenilworth's future STEM events."

Students competed in several categories.

Winning first-place honors were Zoe Patton, Hailey Hansberry, Alacya Derozen, Julia Rodriguez and Mystique Price.

Second-place awards went to Justin Simpson, Stephen Jackson, Angel Caine, Serenity Hines and Angie Patton.

Winning third-place awards were Breanna Robinson, Zyan Booker, Devin Batiste and Louis Smith.

Fourth place went to Roquan King, Jamar Beckwood, Cady Drake, Kolby Trosclair and Kyrah Anderson.

In fifth place were Trayonjarnae Stewart, Zakia Stewart, Alisha Paudel, Joshua Bibbins, Asia Robson, Emily Garcia and John Pembrooke

Kenilworth Science and Technology Charter School is a state-sanctioned charter school with an academic focus on science, technology, engineering and mathematics.

Photo provided by Mark Lambert -- The 2015 Louisiana STEM Expo grand award winners, from left, Carley Whitty, fourth place, Kenilworth Science and Technology Charter School; Anusha Zaman, third place, Glasgow Middle School; Monica Deras, secnd, Kenilworth; Jasmine Gray, first, McKinley Middle Magnet receive awards Feb. 28 from U.S. Rep. Garret Graves.