Kenilworth principal calls basketball court project "a slam dunk"
Nov 30, 2019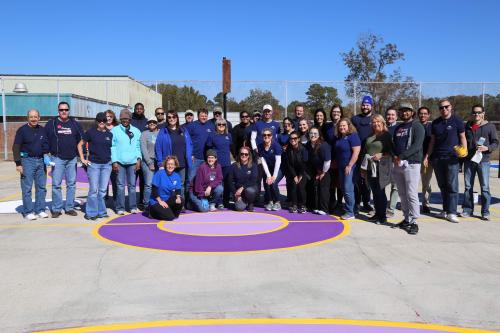 Kenilworth Science and Technology School's outdoor basketball courts received a major facelift recently, thanks to Keep Louisiana Beautiful and its volunteer partners, employees from Entergy Corporation and Blue Cross Blue Shield of Louisiana.
 
More than 50 employees from Entergy and BCBS showed up at the school on Friday, Nov. 14, to clean, paint and repair the four full-sized basketball courts, which now are available for use by students and the people living in the Kenilworth neighborhood.
 
Two of the basketball courts' surfaces were painted blue and white, which are Kenilworth's academic colors; the other two were painted purple and goal, which are the school's athletic colors. Kenilworth Principal Hazel Regis called the whole project "a slam dunk."
 
"It looks so much nicer, and the students also are excited about the new basketball goals," Principal Hazel Regis said. "We truly appreciate the employees from Entergy and Blue Cross who volunteered their time for this community project, and we want to thank the companies for the contributions to make the projects possible."
 
"Keep Louisiana Beautiful is proud to have partnered with Entergy and Blue Cross Blue Shield of Louisiana on this community service project." Susan Russel, Executive Director of Keep Louisiana Beautiful said. "The courts are not only used by hundreds of Kenilworth middle school students, but also by local residents.  Keep Louisiana Beautiful is at its best when it successfully connects companies and individuals who want to help with community projects that strengthen and build clean, vibrant communities".
Keep Louisiana Beautiful said the two companies absorbed the approximate $5,000 in costs to paint, repair and replace the surfaces, goals and backboards. Kenilworth was chosen by Keep Louisiana Beautiful as one of several recipients of statewide volunteer service projects.