Kenilworth now accepting applications for 2020-21 school year
Dec 11, 2020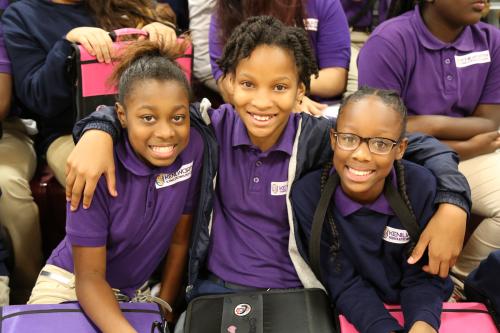 Children in East Baton Rouge Parish who will enter middle school next fall can now apply to attend Kenilworth Science and Technology School, one of the best open-enrollment middle schools in the Baton Rouge area, for the 2020-21 school year.

Parents can go to kenilworthschool.org and click on the "Enrollment" button to begin the application process. Parents also can sign up for a tour of the school by clicking the "Take a Tour" button on the home page. Tours will be given on Wednesday, Dec. 11; Thursday, Jan. 16 and Saturday, Jan. 18, and more tours will be scheduled in the spring.

Kenilworth, located in Baton Rouge's Kenilworth subdivision at 7600 Boone Ave., offers a full range of classes, electives and extra-curricular activities for students in grades 6-8 to prepare them for their high school careers, including:
Foreign language classes
Computer coding classes
Saturday Enrichment Academy
High school credit opportunities (up to 5 credits)
Art classes
Athletics, including football, basketball, cheer, dance, track and soccer.
As a public charter school, Kenilworth offers a high-quality education to all students at no charge. Kenilworth operates as a state-chartered school and has shown consistent academic improvement throughout its 10-year history.

For more information about Kenilworth, call the school at 225-766-8111.
Kenilworth Science and Technology Charter School is a state-sanctioned charter school with an academic focus on science, technology, engineering and mathematics, or STEM. Formerly a part of the East Baton Rouge Parish school system, Kenilworth has demonstrated consistent academic growth since its conversion to a charter school in 2009.