Education Inc.: Kenilworth Science and Technology Charter School
Oct 13, 2014
by BR Staff @ Business Report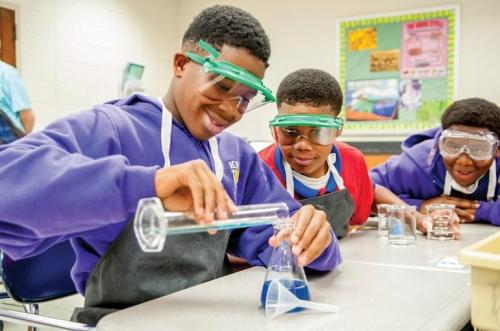 Kenilworth was one of the Baton Rouge area's lowest-scoring schools when it became a state-sanctioned charter school starting in the 2009-2010 school year.
The Pelican Foundation operates the school in association with Texas-based Harmony Public Schools. Local board members primarily are affiliated with Louisiana universities. Its main focus, as the name suggests, is on science, technology and math, or STEM, and there's a strong emphasis on project-based learning. The school includes sixth, seventh and eighth grades.

Principal Hasan Suzuk, whose background is in computer technology, loves data and tries to incorporate numbers into everything Kenilworth does. He says about 85% of his teachers are certified in some way, about half of those through the traditional route and half through alternative certifications. They give bonuses to teachers for extra work or for raising test scores, up to $4,000 above their base salary.

While nestled in a middle-class neighborhood between Highland and Perkins roads, almost none of its students live in the school's ZIP code. According to statistics provided by school officials, about 90% of the students are black, and 91% are poor enough to receive free lunch. Enrollment has grown since the takeover from 447 to about 580.

Kenilworth's various events and projects have been featured in local media, and its students have been recognized locally, nationally and even internationally. Jalen Scott, an eighth-grader last year, has won or shared multiple awards and been published in an academic journal for his study of elevated levels of arsenic in soil at Baton Rouge school sites.

There have been too many allegations against entities associated with Harmony or said to be affiliated with the Turkish Gulen Movement to list here. A New Orleans school run by Pelican was shut down in 2011 in the midst of scandal, and federal investigators raided Kenilworth last year as part of an investigation into the school's business dealings.

Everyone is innocent until proven guilty, of course, and school officials are said to be cooperating with the investigation. Far more important from the state's perspective are the school's test scores. School performance scores have risen every year since the takeover, as has the percentage of students scoring at grade level. Judging by the numbers, Kenilworth is one of the top-performing open-enrollment schools in the parish.

Sherman Scott says his son Jalen has been through five schools, but Kenilworth has been the best. He says his son's teachers recognized his talent and pushed him to be the best student he could be, adding that Kenilworth's teachers go "above and beyond" for their students.